LuzArte Jollet polka-dot dildo with Magic Wand attachment by Supersmachcache SEPTEMBER 6, 2020
The iconic
 

polka-dot LuzArte Jollet dildo

 

is perfection, both aesthetically and as a pleasure product.

I get questions about LuzArte's eye-catching designs EVERY time they're in my photos — even if there's only a brief cameo.
It's for the same reason:
The Jollet is often sold out

 

at Spectrum Boutique.
Every part of my vagina loves the LuzArte Jollet. G-spot, A-spot, and cervix. I got my Jollet in 2014 and reviewed it in 2018, and even now, in 2020, I'm still excited to try another version of it.
Even its backstory, which I first heard six years ago, sounds legendary. I'll quickly recap it for the uninitiated.
---
LUZARTE JOLLET REVIEW TABLE OF CONTENTS
---
About the one and only LuzArte Jollet dildo
THE JOLLET DILDO'S ORIGINS & MAKING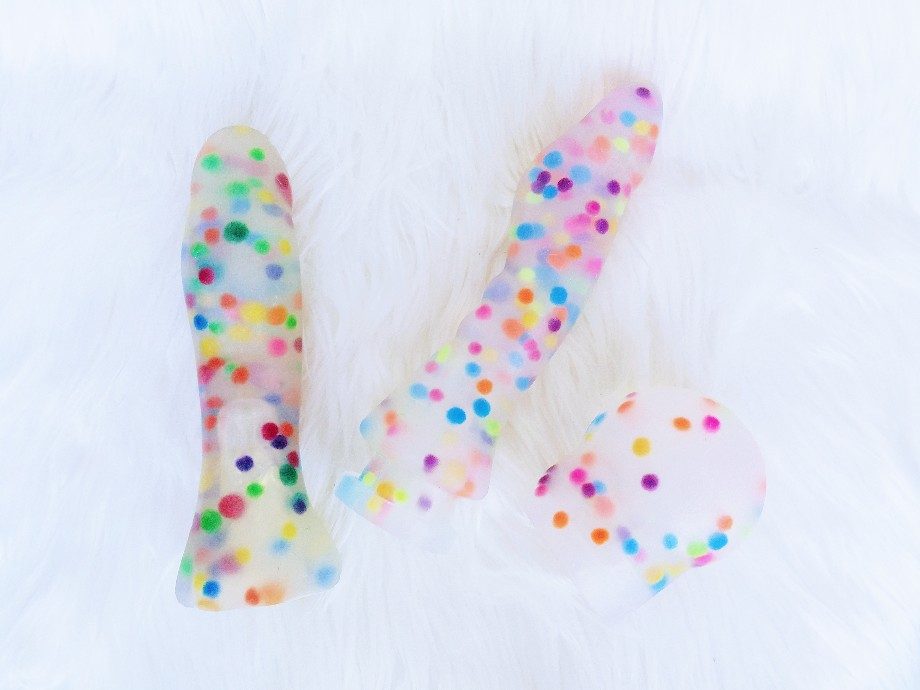 Its single-humped design is unconventional and hardly representative of a cock. That's because LuzArte (back then known as Jollies) decided to work backward, focused on one question:
What if we made a stationary dildo that was shaped like the inside of a vagina?
And the Jollie and Jollet were born, snugly fitting the contours of the pubic bone and behind the cervix. I don't know quite how they did it, but the shape works ridiculously well for me.
Despite the rough patches and a hiatus, Jollies/ChavezDezignz came back as LuzArte and further refined their products. Today, the new-and-improved Jollets comes with a grippier base, neatly finished edges, and nearly seamless silicone.
Rainbow polka-dots and iridescent glitter in clear silicone are perhaps LuzArte's signature coloration. If that's not your thing, I respect that; you can still other decor embedded, as long as it's not too big or weirdly-shaped. LuzArte even has a "masterpiece series," featuring Jollets in limited-edition patterns.
What the Jollet dildo is excellent for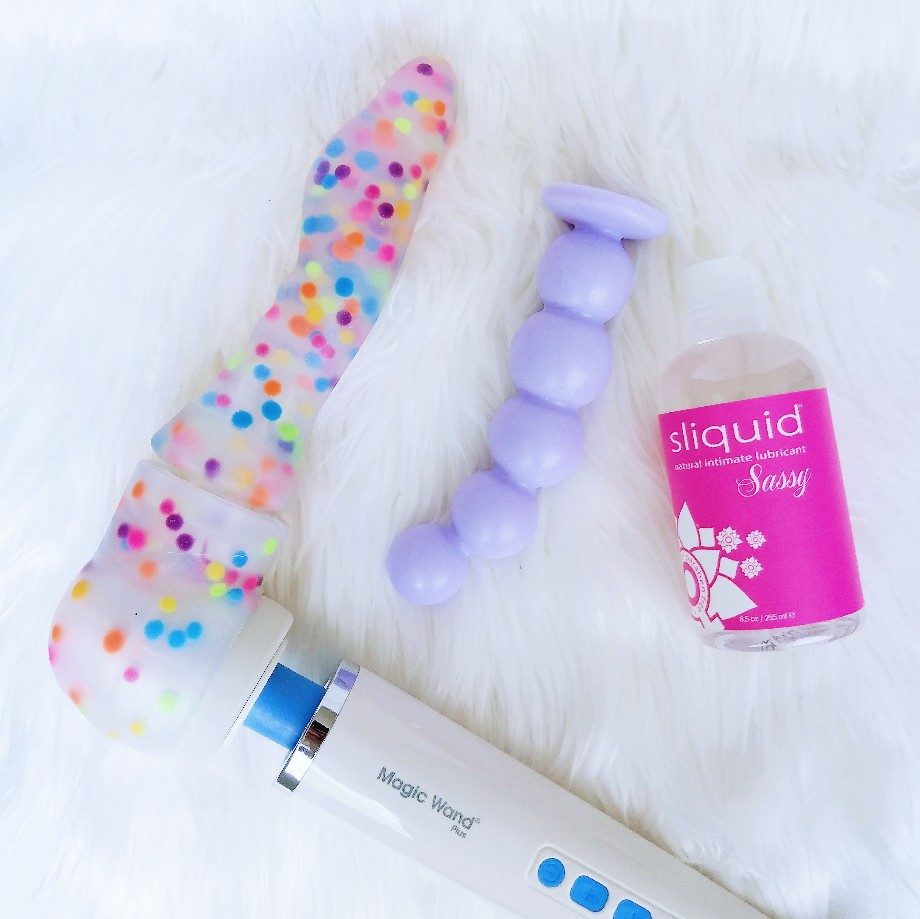 Of course, vaginal anatomy varies. Most reviewers will tell you not to thrust the LuzArte Jollet; just let it sit and press up against your G-spot as you apply clitoral stimulation.
I'm here to tell you, "Fuck it." Literally, fuck it. Thrust the Jollet. If you:
Love girth
Have an average-height or high-set cervix (you can insert your fingers in beyond the second knuckle before encountering the cervical os)
Then the Jollet feels delicious. Just tilt it a little for near-effortless G-spot and cervix stimulation simultaneously. Some of the most intense orgasms of my life have come from using the LuzArte Jollet.
LuzArte Jollet dimensions & options
JOLLET MEASUREMENTS
9″ total length
4″ length from tip to the bottom of the hump
1.9″ maximum diameter
1.6″ shaft diameter
2.1″ base
1.6″ wide notch at the bottom; fit it in a

 

harness O-ring

 

to

 

strap on!
VERSIONS OF THE JOLLET AVAILABLE
Take 30% off your order at LuzArte personal products with coupon code SUPERSMASHCACHE
We're focusing on the Jollet with a Hitachi Magic Wand converter attachment, though. As shown below, it's a two-piece unit: the actual harnessable dildo and the adapter cap.
More ways to use your LuzArte Jollet
Oh, but I should also add that all four versions of the Jollet have a bullet cavity! That means you can make your Jollet vibrate with a wand or a rumbly bullet like the We-Vibe Tango — or stick something else in the hole entirely!
Maybe try a suction cup adapter and mount it instead. You could, of course, use the Reach extender handle. If you have arthritis, mobility issues, or lots of body fat to navigate, you may be nodding about how useful that option is.
(Plus, if you're looking for dildos with bullet cavity bases, I'm fond of the Tantus Tsunami. It's also on my list of best A-spot toys for deep penetration!)
Hitachi
 

Magic Wand attachment for the Jollet

Give your LuzArte Jollet next-level vibrations with a Magic Wand! Doing so makes the internal clitoral stimulation more intense; pair it with an external vibrator to shake all parts of your clitourethrovaginal complex. As well, if the weight doesn't bother you, you may find that the wand adds extra length and helps you aim and angle.
LuzArte wand attachment dimensions & compatibility
The Hitachi Magic Wand adapter for the Jollet is explicitly designed for the Magic Wand Original. There's a ring encircling the inside of the cap, to fit snugly along the Original wand head's groove and keep it in the place.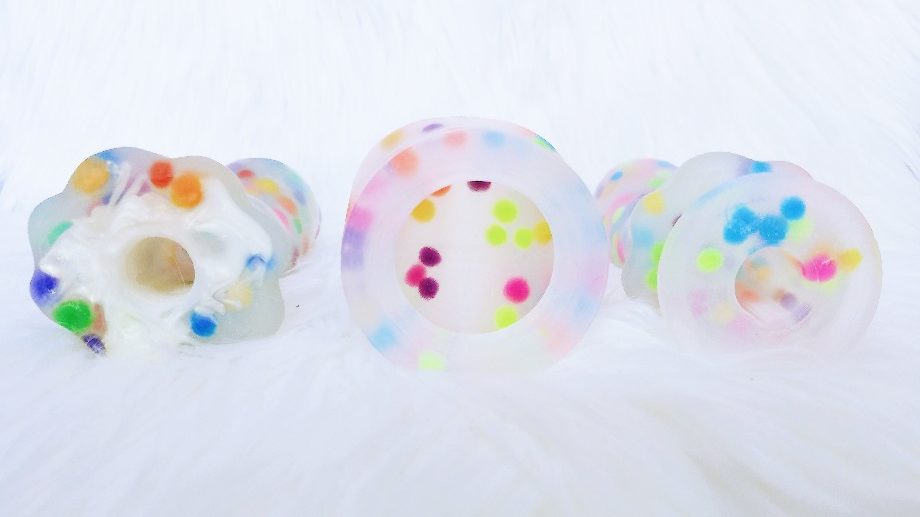 You can, however, pop it on the Magic Wand Plus; I much prefer the Plus's rumblier vibration quality. The downside is that, since it's not a perfect fit, this particular combination rattles quite a bit. It's not discreet by any means. However, since the Magic Wand Original is also way louder, to begin with, I think putting the cap on the Plus version for more power and versatility is a worthy trade-off.
Due to LuzArte's silicone firmness, I (unfortunately) wouldn't recommend putting the attachment on a Doxy or We-Vibe Wand. You CAN do that, but it's not easy to stretch the wand adapter cap over a Doxy's relatively broad and blunt head shape. The We-Vibe Wand, meanwhile, is more tapered and oblong, so it's not as snug a fit; the vibrations wouldn't travel nearly as well.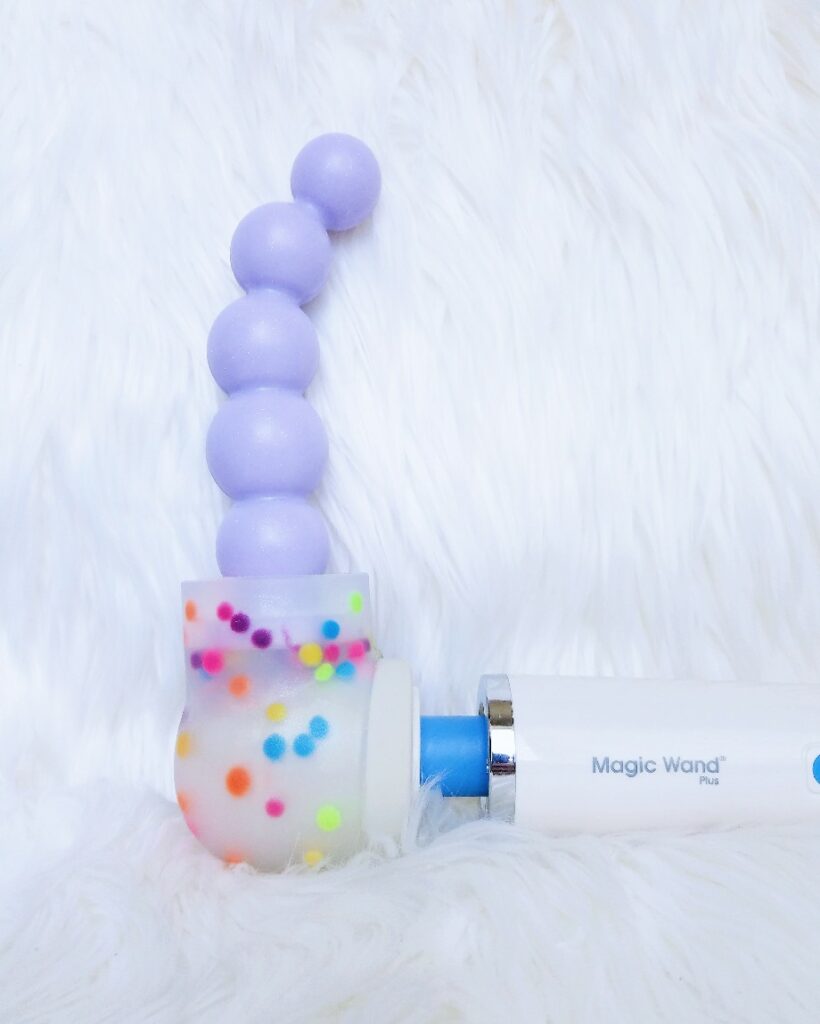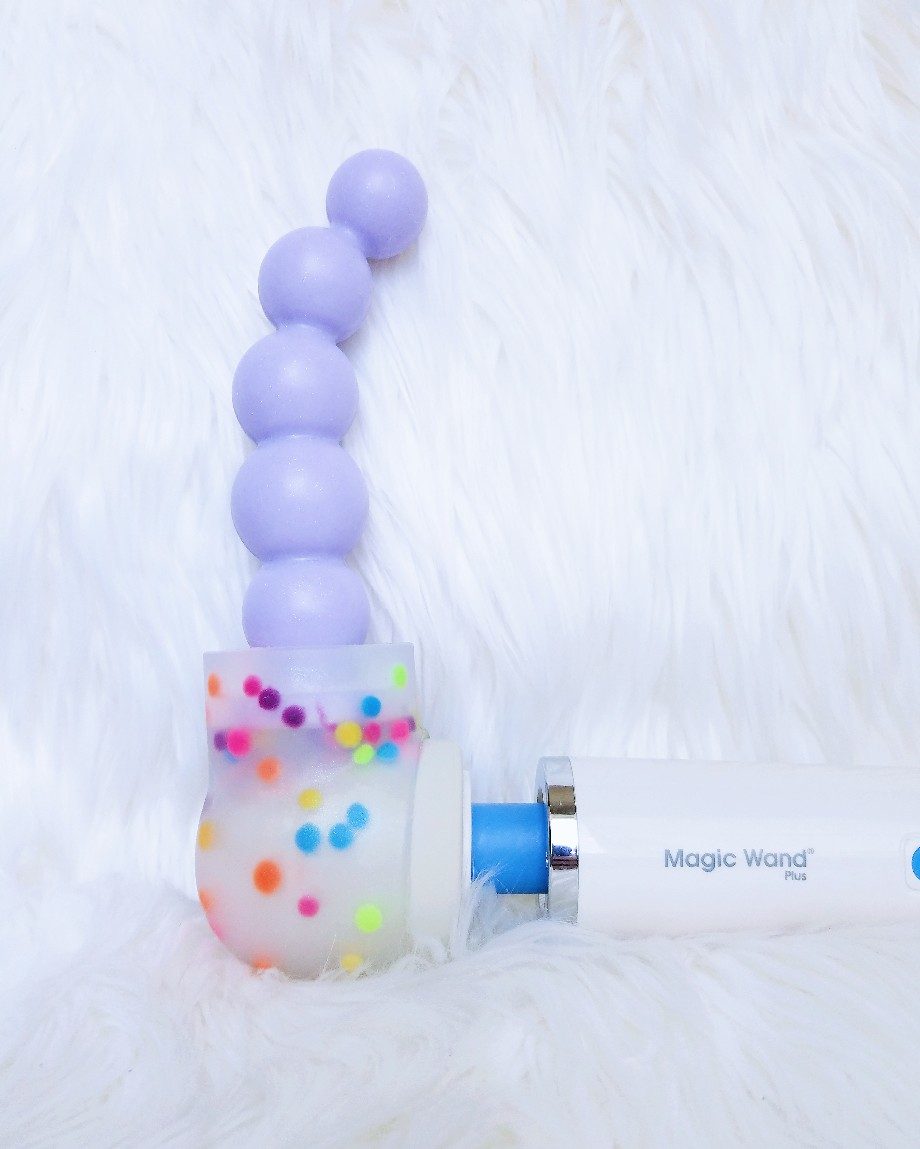 You also have the option to strap other dildos to your Magic Wand using the LuzArte cap! The hole is about 1.6″ across. As long as:
The phallus is no wider
The base is flat and flared but not too bulky
…there are plenty of options for playing with your LuzArte stuff!
My verdict on the
 

Hitachi

 

Magic Wand-compatible LuzArte Jollet

I've had my Jollet for so long, but I'm still enchanted by how deceptively simple its shape is. The firm pressure. The stretch. The smaller ridges against my front wall. The flattened and tapered tip pressing behind my cervix. Maybe I should request a custom Jollet filled with little heart-eyes emojis to show how truly I feel about it.

I can't complain about the wand cap. It gets the job done, and it's versatile AF. Personally, I'd prefer inserting a We-Vibe Tango to add rumbly vibrations while still being relatively quiet and discreet. If you want the Jollet in its most potent power tool edition, though, it's a no-brainer.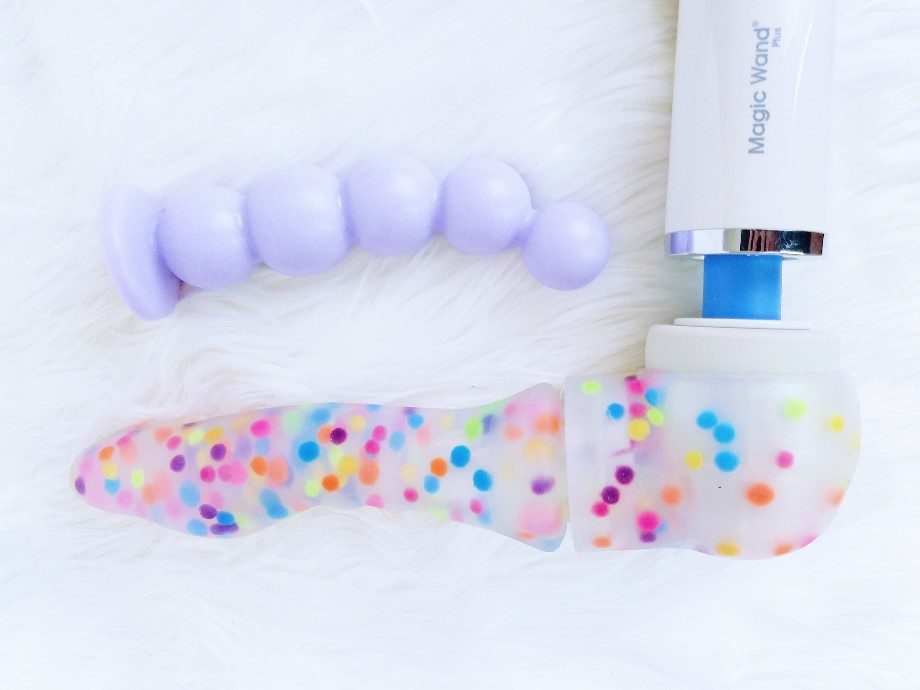 Get the Jollet with the Hitachi Magic Wand attachment and start sampling all the ways to enjoy this flawless dildo. Thrust it, rumble it, strap it, love it.
https://supersmashcache.com/2020/09/06/luzarte-jollet-wand-attachment/
---